Tank Gauging System
Efficient & Accurate Management of your Fuel Tanks
SIGMA TGS is an Automation System for accurate measuring and continuous monitoring of Fuel Level, Water Level, and Temperature into Petrol Station's Fuel Tanks, using Magnetostrictive technology.
SIGMA TGS is the ideal solution for modern Petrol Stations in which new up to date Automation Systems are installed, to maximize productivity.
Length - Material of Sensor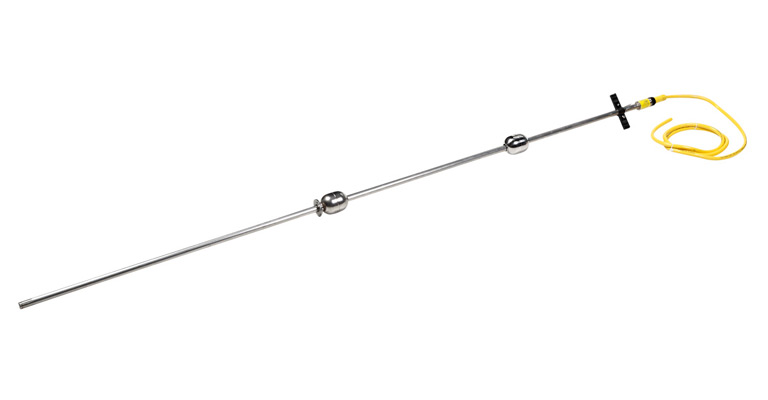 From 0,50 m up until 7,30 m, Stainless Steel Rod (316 Stainless Steel, IP68).
From 7 m up until 15 m, special plastic material (PVDF, Kynar) - Mounting to the tank's bottom through suitable weight.
The principle of measurement and the fully developed technology, ensure measuring accuracy and a high level of reliability.
Operation of the sensors is free from the influence of: Density, Dielectric Constant, Electrical Resistance, Temperature, Chemical Composition (additives), Dirt Deposit (diesel) Submersible Pump, Surface Waves, Vapour, Sediments and Mechanical Impacts/Vibrations.
Site planning infrastructure
Standard communication cable 2x2x0,75mm.
Hydraulic installation through a 2'' hole.
Planning according calibrated Stick measurements or Tank's site map.
Power Supply
Schematic of sensor's connection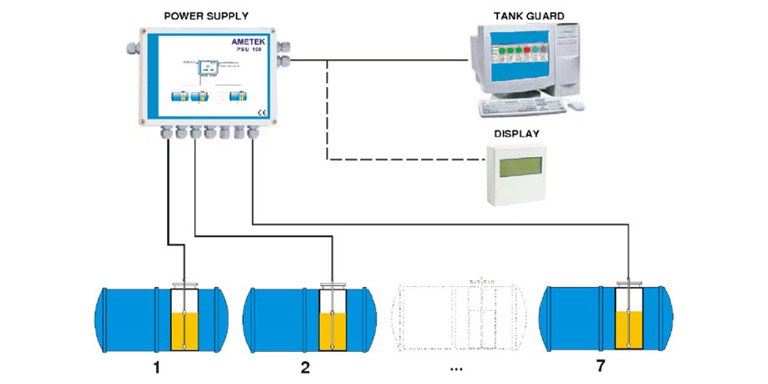 The Supply acts as an interface between the controlling system and the Sensors.
It can control from one to seven (optionally up to fourteen) sensors directly via one serial RS232 interface and provides galvanic separation of each Sensor's communication loop, along with galvanically isolated supply to each sensor.
Options of Communication & Data transaction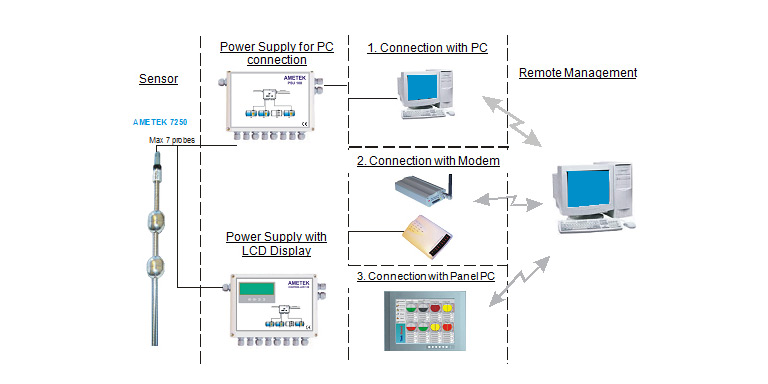 Connection to Local PC (Windows 2000/NT/XP) with "Tank Guard" software.
Connection to Remote PC through GSM modem.
Connection to panel PC.
Without PC, directly connected to a supply-controller with screen, keypad and printer port.
Tank Guard S/W
The software provides an easy program through which the user may be benefited of the several functions that the system provides. The data on PC screen is available on both numerical and graphic form.
Fuel's level in millimeters & Fuel's volume in liters.
Detection of water concentration in the tank (Height and Volume).
Conversion of Fuel's volume in the temperature of 15C
Alarms for high or low levels of Fuel's volume.
Automatic registration of fuel's receivings.
Leak detection.

Tenhnical Specifications
| | |
| --- | --- |
| Number of Sensors | 1 – 7 (Optionally the Sensors can be  expanded up to 14) |
| Available Data | Height – Level of Fuel / Height – Level of Water / Temperature of Fuel |
| Data extract | Serial Communication 9600-115200 baud |
| Resolution of Fuel's Level | 0.1mm |
| Resolution of Volume | 0.11 |
| Resolution of Water's Level | 0.1mm |
| Temperature Resolution | 0.01 0C |
| Temperature Precision | ± 0.3 0C |
| Connection with the PC | Through Serial Port |
| Power Supply | 230(±10%) VAC, 50/60 Hz, 15.5VA |
| Power Supply per Sensor | 5.7VDC, 120 mA |
| Sensor's Power Supply | 7.93VDC, 280mA, 1W, 301μF |
| Temperature Range | -20 up to +50 0C |
| Approvals | Ex II (1) G [Eex ia II B T4] Nemco 05 ATEX 1219X |